A reliable and resilient support infrastructure mitigates operational risk and thereby optimizes the availability of power to the business. Functional design requirements must meet key business objectives and the management philosophy of the site. The need for scalability of. capital investment modularity in approach and increasing power density influence the choice of UPS systems for providing conditioned, uninterruptible and continuous power supply to critical loads. The UPS from HITEC PowerPRO series meets all of these requirements.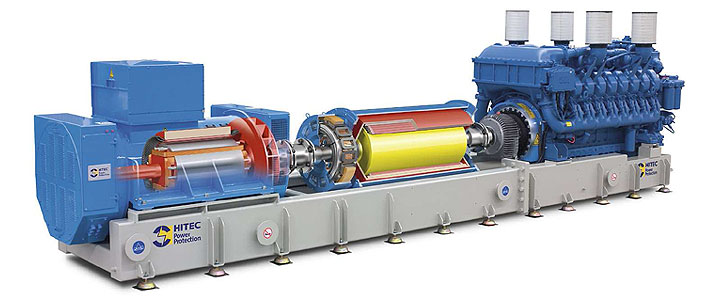 PowerPro 2700
The new standard in continuous power that delivers:
Lowest possible TCO
Greatest reliability and uptime
Highest available system efficiency
Unrivalled monitoring and reporting
Rapid and straightforward installation
Intuitive control and operation
Compact footprint, highest power density
A sustainable and battery-free solution
PowerPRO2700 Features
Automatic bearing lubrication
Ducted air cooling and filtration
Integrated noise reduction
Plug and play connectivity
Visual health and system status
Remote monitoring and support
Performance based reporting
Exceptionally High No-Break UPS Ratings
Predictable Lowest Total Cost of Ownership
Optimized for Highest Efficiency
Feature
Benefits
High energy efficiency (up to 97%)

Lower operational cost
Lower Power Usage Effectiveness (PUE)
Less waste heat

Low space requirements
(40-60% less than static UPS)

High power density
Reduce building costs
Reduced HVAC costs

Integrated functionality combining UPS and standby diesel generator

Robust, compact and modular design
High system availability
Active filter supplies conditioned power

No use of batteries

No battery replacement every 3-5 years
No chemical waste
Compact and simple
Environmentally friendly
QMS remote monitoring
Hitec Power Protection offers QMS, a powerful software tool for the monitoring, supervision and maintenance support of PowerPRO systems. QMS is a multi-purpose user-friendly software tool that runs on a pc with Windows®. The status, event history and electrical parameters are gathered, stored and conveniently arranged on the pc screen for easy reading and printing.
Versatile Hardware Configuration
The HITEC PowerPRO concept is based on proven Dynamic UPS technology. The design combines different functionalities using pre-engineered modules and components that are arranged to enhance their efficiency. The diesel engine and generator can function as a traditional genset even with the energy storage system disconnected. Another benefit is that the generator and ETM can work in unison as a rotary UPS even when the diesel is disabled for maintenance. These elements can also provide kVAR and harmonics mitigation, plus ride-through energy to support the total system.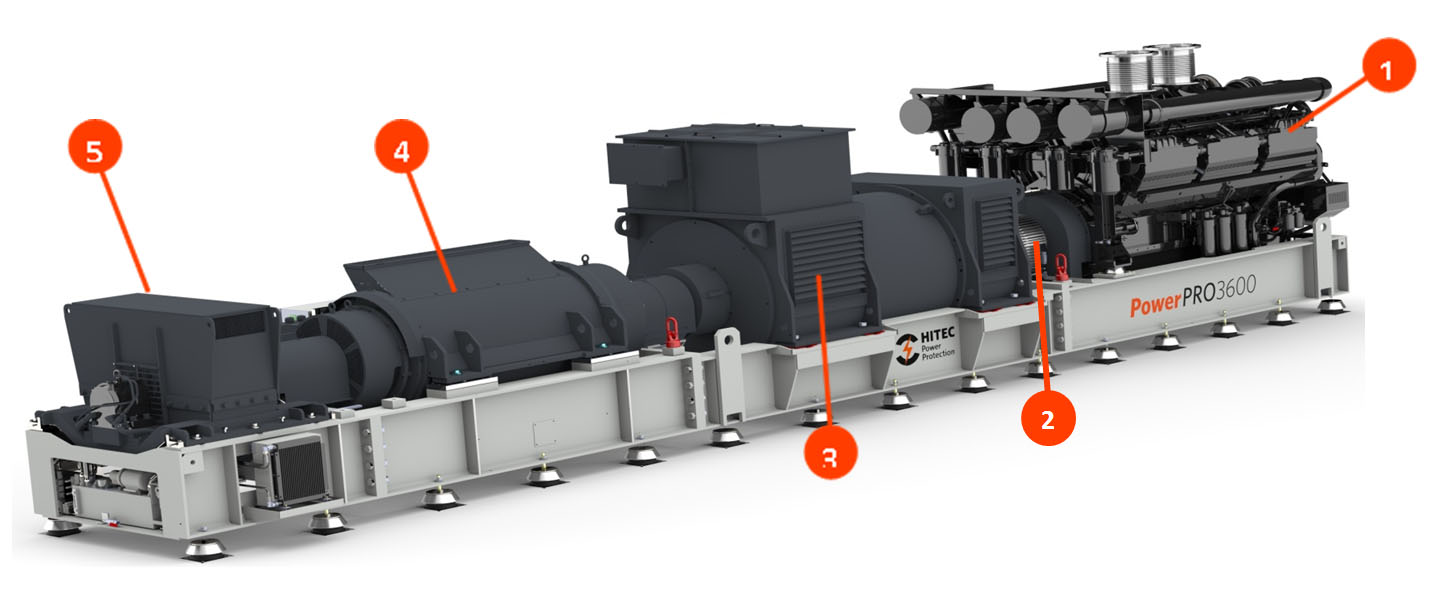 The diesel engine is kept in optimal condition to enable a short start and quick load acceptance. Emission optimized engines are available to comply with carbon emission standards from EPA or TA. Diesel Start Delay
The free-wheel clutch is a robust mechanical machine, self-lubricating and with low maintenance requirements. It operates without any external control thereby ensuring a "shock-free" delivery of power.
The generator is matched with the nominal load and reactor ensuring good dynamic system response. Careful design of the exact characteristics of the generator and reactor provides an active filter to remove both utility and load-borne anomalies like voltage spikes, frequency variations and harmonic distortions. Load and utility short circuits can be cleared without the need to switch the load to bypass. The generator also enables power factor correction close to unity.
The Energy Transfer Module (ETM) is the heart of the system. It transfers the kinetic energy stored in the flywheel to the generator, so guaranteeing an uninterrupted supply of power.
The flywheel is available in different sizes to match the required output power and ride-through time. With variable speed controls, the amount of energy stored can be controlled, to match the power need, hence increasing the overall system energy efficiency significantly, especially at partial loads. (Applicable for PowerPRO3600)
A Hitec PowerPRO acts as a filter for all sorts of utility disturbances
Total Solution Provider

We promote long-term service partnerships that deliver quality, reliability and value throughout the lifecycle of your equipment. Our customized service solutions encompass an advanced remote monitoring platform, performance reporting, service inspections, maintenance, training and service consultation. Our Helpdesk is dedicated to providing timely, high quality support to all of our customers Worldwide, 24x7x365. We provide the partnership that fits your need and ensures that "Power is in your Control".
System Advantages
Reliability
A straightforward design with proven technology, a brushless system and low speed flywheel ensure high reliability.
Efficiency
The most efficient fully operational UPS system in the market, up to 97%.
Power factor correction
The input power factor remains close to unity, minimizing power factor charges from the utility.
Dynamic filter
The choke and generator act as a rotating filter, removing harmonics from both the input and output.
Voltage regulation
The output voltage is controlled independent of the input voltage.
Small footprint
The installed size of the system is 40 to 60% less when compared with static UPS systems.
Energy Storage Optimization mode
Energy Storage Optimization mode (ESO mode) reduces the accumulated flywheel energy to the level that is needed to guarantee UPS function, thus saving energy.
Diesel Start Delay
Diesel Start Delay mode (DSD mode) prevents unwanted diesel starts for short utility interruptions, saving fuel and equipment wear.
Project-specific systems
The HITEC PowerPRO can be fully integrated to meet site-specific design requirements. Custom solutions are available to provide:
Growth scenarios to match capital investment and operational costs with revenues generated
Maximum availability of processes to meet industry standards by creating redundancy and eliminating any single points of failure
Designs in line with the most rigorous operating and maintenance scenarios

Simply Reliable Solutions to Power Quality Issues
Banks, Data Centers, Telecoms, Airports, Manufacturing Processes & Major Research Projects, in fact all installations where continuous running is required, demand a filtered, continuous and sustainable power supply solution.
HITEC Power Protection can guarantee the availability of high-quality power with our PowerKEM rotary UPS (Uninterruptible Power Supply). We have over 60 years' experience in the design and manufacture of rotary UPS Systems. HITEC Power Protection provides a high level of reliability and efficiency ensuring total protection of essential electrical loads and low cost of ownership for the lifetime of your facility.
Our team of experienced engineers and technicians will partner with you to identify your needs, develop an optimal design and implement the system in your facility.